Best AI Tools for Education
Ilma
Last Updated: October 29, 2023
11 min read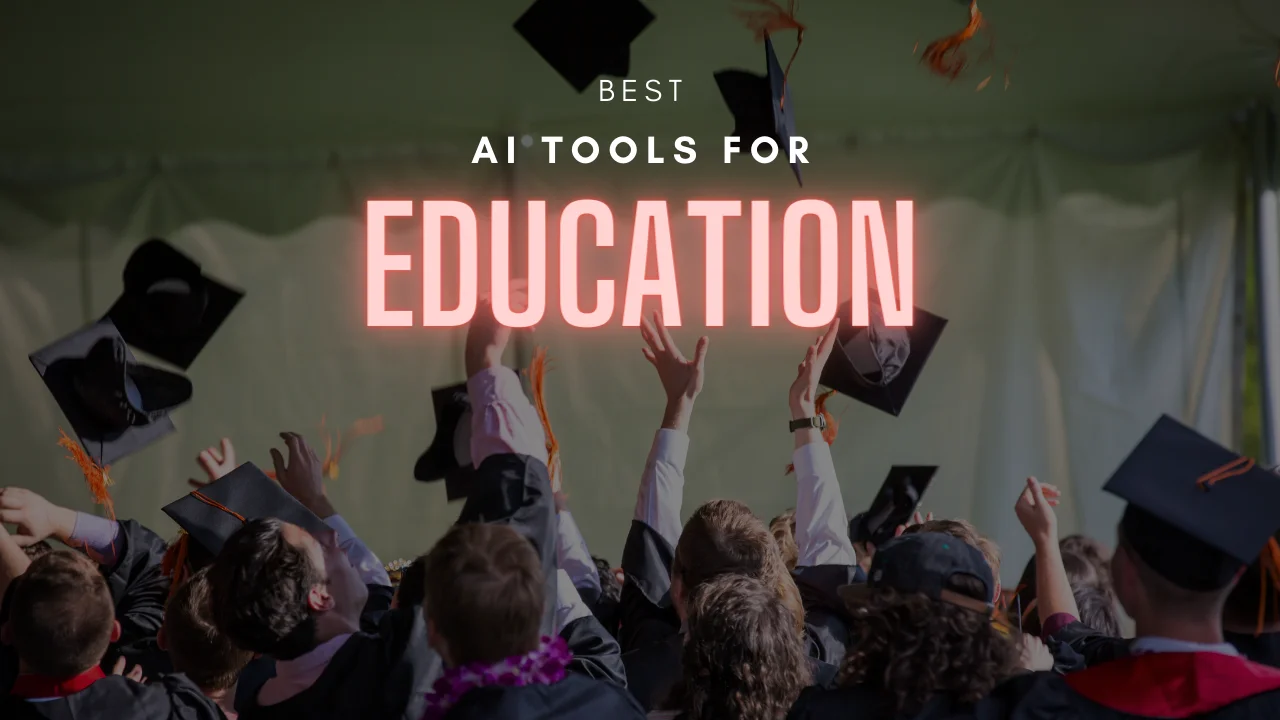 Artificial intelligence (AI) tools for education are altering education in a variety of ways in today's quickly changing digital environment, providing a wealth of advantages for both students and teachers. These AI-powered technologies are revolutionising conventional teaching approaches and ushering in an era of unprecedented creativity by moving from theoretical notions to real-world applications.
Task automation, personalised learning environments, and real-time feedback are just a few of the dramatic effects AI is having on education. The education sector is rapidly changing due to AI, becoming a multi-billion dollar global market. AI tools for education help create a more effective and interesting learning environment while also saving teachers a significant amount of time. Although AI is frequently linked to the commercial world, it has enormous potential to improve educational systems. By easing their administrative obligations, AI empowers teachers rather than replacing them, allowing them to devote more time to their pupils' education.
The power of AI tools for education to completely transform various facets of education and learning accounts for its explosive rise. They can provide intelligent instructional content, overcome language hurdles, close the gap between teaching and learning, personalise learning programmes for each student, and do a lot more.
Many forward-thinking businesses are creating AI tools to bring about these revolutionary results. These technological developments allow teachers to devote more time to their students. Through the provision of priceless resources to instructors and the reduction of administrative duties, these tools have the potential to fundamentally alter how we educate future generations.
Schools and teachers can choose from a wide range of AI tools suited to their unique needs and goals for the classroom. The best AI educational tools are listed below.
Best 5 AI Tools for Education
Revealing the top AI tools for education!
1. Carnegie Learning
Description:
By incorporating AI and machine learning into its high school and college-level learning platforms, Carnegie Learning distinguishes itself as a leading provider of curriculum and education technology solutions. The AI tools for education offered by Carnegie Learning are known as some of the top AI and ML apps in education and include a variety of topics like maths, literacy, and foreign languages.
Best Features of Carnegie Learning:
Carnegie Learning stands out for its dedication to assisting students in understanding both the "what" and the "why" of their subject matter.

They provide a link between research results and practical application.

For instance, by deploying Carnegie Learning's Fast ForWord and Reading Assistant Plus, Buchanan County in Virginia successfully addressed learning gaps caused by the pandemic.

Through data-driven insights, they continuously improve their solutions, helping students develop conceptual understanding.

These solutions also improved student motivation and engagement, which is as important.

One of the highly regarded products from Carnegie Learning is MATHia, a piece of software created by scientists at Carnegie Mellon University.

By simulating the individualised instruction of human tutors, their platforms offer each student a customised learning environment.

Additionally, they provide pupils with Fast ForWord, a reading and language programme that improves cognitive abilities.

Carnegie Learning's platforms provide useful information that enables teachers to efficiently track and coordinate students' development and performance.
Costing: Users may contact Carnegie Learning for pricing.
2. Cognii
Description:
Cognii offers a wide range of AI-based technologies specifically suited for the education industry, not just one particular product. A seamless AI-powered assessment engine is available for educators that works with kids in grades 3 and up across several topics. Various elements intended for real-time tutoring and assessment are included in its services. At its foundation, Cognii is a digital platform for questions and answers, but it also uses AI to identify and react to the answers provided by students in their own language.
Best Features of Cognii:
It is remarkably accurate, on par with human educators, and evaluates critical thinking abilities in addition to basic information.

Higher education institutions and business training settings are only two of the many educational settings that Cognii serves.

The availability of analytics and real-time information is another useful advantage for educators. Teachers can pinpoint students' areas of proficiency and knowledge gaps using printable reports and graphical summaries.

The virtual learning assistant, one of its standout AI technologies, uses conversational technology to assist students in creating open-format responses and improving their critical thinking skills.

The virtual assistant also provides real-time feedback catered to each student's needs as well as personalised one-on-one instruction.

This AI tool for education has won numerous accolades and is significantly advancing the digital education of K-12 and higher education students.

Thanks to its intelligent tutoring features, Cognii may be used in traditional classrooms or for remote learning, enabling students to get advice and support without the continual presence of an adult.

This flexible platform is usable on a variety of devices, making it easier for students to access.

Consider it as Siri for school, providing AI-driven learning support. It's crucial to remember, though, that Cognii primarily provides pupils with pre-written help remarks in question-and-answer situations.

It allows for activities like reading texts and responding to questions, with direction given depending on the students' responses or objective evaluations.

For grades 3 through 12, the following topics are covered: maths, science, social studies, engineering, and English language arts.

When compared to other assessment systems, Cognii stands out for its ability to let students answer questions in their own terms while still providing automatic advice and grading.

Cognii gives students the freedom to explain their responses in their own terms rather than only using multiple-choice tests to quickly grade assignments. It then points out any gaps in context, intricacy, or completeness in the responses and provides helpful criticism for development.

The current state is more akin to a teaching assistant that makes grading and correcting work easier while encouraging individual learning and progress, despite the appearance that it is paving the way for a future where robot educators take the place of human educators.

Learning through communication feels natural since the chatbot-style conversational interaction reflects the online communication experiences that students and teachers are already accustomed to.

Grading is automated, saving teachers a tonne of time. Additionally, because all data is maintained online, teachers can easily identify areas and students that need extra help, allowing for more efficient lesson planning and curriculum covering.
Try Cognii
Costing: Users have to contact Cognii for pricing.
3. Gradescope
Description:
Gradescope, a potent AI grading tool that Turnitin is providing for you. This flexible platform makes it easier to grade different assignment kinds, be they quick tests or in-depth exams, whether they are digital or paper-based. Gradescope uses machine learning (ML) and artificial intelligence (AI) to improve grading efficiency, allowing teachers to focus on more important activities.
Best Features of Gradescope:
The capacity to efficiently streamline grading tasks is Gradescope's key strength.

It deftly combines comparable responses according to subject, making it simpler for teachers to provide comments.

Utilise dynamic rubrics to easily tailor them to your assessment requirements.

It enables students to ask for a second opinion on their work.

Additionally, it offers informative information to aid instructors in doing efficient results analysis.

The AI tool for education provides question-by-question grading. For an accurate evaluation, grade responses for each individual question.

Data export is simple and allows for additional analysis and reporting.

It covers a wide range of topics, including technical ones like computer science, engineering, and physics.

Collaborative and Anonymous Grading is made possible with this AI tool. Use artificial intelligence to speed up and simplify peer evaluation.

Gradescope provides an all-in-one solution for managing projects, online homework, and paper-based exams.

Easily group student responses into categories using AI-assisted or manual question grouping.

Time Extensions Specific to Students: Make fair concessions for students who need more time.

Automated grading with AI to boost efficiency while preserving justice.

Encouraging student involvement by allowing them to contribute comments and marks will increase productivity and equity.

This complete platform guarantees fair grading procedures and offers insightful data on student demands and academic trends.

Because of Gradescope's skill in fusing AI and ML, graders can focus on the essential role of educating while also saving time and energy.
Try Gradescope
Costing: Gradescope offers a free basic plan. Users can contact for further pricing details.
4. Ivy Chatbot
Description:
Ivy is a specialised set of artificial intelligence (AI) tools for education made for institutions, especially colleges and universities. Ivy's distinctive strength is its ability to use data to inform tactical hiring strategies. The conversational AI platform Ivy.ai was primarily created for commercial use. It streamlines a number of university-related operations, including deadlines, tuition management, enrollment, and application procedures. Businesses can improve customer interactions by using the tools it offers for A/B testing and conversational flow optimisation.
Best Features of Ivy Chatbot:
One distinguishing quality of Ivy is its capacity to provide students with crucial knowledge regarding available financial assistance alternatives, including loans, scholarships, grants, and tuition rates.

It can be adapted to the needs of various university departments, thanks to its capacity to build personalised chatbots.

Its smooth integration with well-known platforms like Facebook, ERP (Enterprise Resource Planning), and SIS (Student Information System) demonstrates its capabilities for integration.

Ivy offers interactive user communication through live chat and SMS nudging.

Learning and adaptation is made easy with this AI tool for education. Through user interactions, Ivy's AI develops over time, becoming smarter and more receptive.

It makes use of cutting-edge tools like machine learning (ML) and natural language processing (NLP) to enable human-like conversations between users and AI entities.

It also offers flexibility and user-friendliness. As an alternative, companies can use the simple drag-and-drop interface of Ivy.ai to build custom chatbots and voice assistants.

Ivy.ai's capability to interact with current corporate systems and databases, providing individualised and context-aware solutions to user inquiries, is one of its primary strengths. This gives companies the ability to automate processes related to customer support, sales, and marketing, freeing up human resources to work on other important projects.

The platform provides pre-built chatbot templates and voice assistant modules that organisations may customise.

Ivy.ai offers additional functionality in addition to its primary functions, such as analytics and reporting tools for monitoring chatbot and voice assistant performance.

Ivy.ai provides the resources and know-how required for success, whether automating customer care channels, optimising sales procedures, or creating compelling marketing campaigns.

Ivy.ai is a flexible conversational AI platform appropriate for companies of all sizes, to sum up. It enables businesses to improve their sales, marketing, and customer service procedures.
Try Ivy Chatbot
Costing: Interested Users may contact Ivy Chatbot for pricing.
5. Knowji
Description:
With the use of cutting-edge educational research, Knowji, a premier AI teaching tool aimed at language learners, improves vocabulary learning. The vocabulary study apps from Knowji AI provide a simple and pleasant approach to increase your vocabulary. It uses cutting-edge methods to quicken the learning process and has a number of standout attributes. Use the applications from Knowji AI to start your vocabulary learning journey and experience the magic of language learning.
Best Features of Knowji:
The curriculum of Knowji is in line with Common Core standards, ensuring that it is relevant to educational objectives.

The capacity of Knowji to track and forecast a learner's word retention is one of its unique features. This is achieved via a clever algorithm for spaced repetition, which over time increases learning efficacy.

To improve word comprehension and retention, Knowji uses examples, phrases and images to provide visual and contextual help.

Users have the freedom to customise their educational experience, making it suited for students of various ages and learning goals.

The AI tool for education offers multiple learning modes. Knowji provides a variety of learning options to accommodate different learning preferences and styles.

For efficient learning, Knowji uses a memory coach and a potent spaced repetition algorithm.

The spaced repetition algorithm optimises review sessions for maximum long-term retention, while the memory coach continually reinforces word retention. This tried-and-true method speeds up learning new words.

The vocabulary learning applications from Knowji are available on both iOS and Android devices, allowing students to study whenever it is most convenient for them, whether they are at home, at work, or on the go.

Knowji makes sure that students easily learn and retain new words by combining powerful strategies with interesting information.

Knowji AI offers the perfect option to unleash your linguistic potential, whether you're a student getting ready for examinations or just want to expand your vocabulary.

The learning process is made interesting and efficient by features like visual aids, audio pronunciations, and straightforward definitions.
Try Knowji
Costing: Contact Knowji directly for pricing.
Conclusion
The revolutionary potential of AI tools for education cannot be emphasised, in my opinion. These fabulous technologies are changing the face of education and benefiting both students and teachers in several ways. AI is revolutionising education and learning in a variety of ways, from personalised learning experiences to effective task automation.
Among the best artificial intelligence (AI) tools for education, Carnegie Learning stands out for its dedication to assisting students in comprehending the "what" and "why" of subject matter, bridging the gap between academic study and real-world application. Critical thinking skills are promoted through Cognii's accurate real-time tutoring and evaluation services. Ivy Chatbot streamlines university procedures and improves student relationships, while Gradescope streamlines grading tasks so teachers may concentrate on teaching. With its revolutionary learning methods and vocabulary-building apps, Knowji AI empowers language learners.
These AI education tools do not take the place of teachers; rather, they empower them by offering insightful advice and assistance, thereby enriching the educational process. The future of education will be significantly shaped by AI tools as the educational landscape continues to change, making it more interesting, efficient, and open to all. To find out more about AI tools, visit Futuritech.io. You may also check out AI tools for teachers and free AI tools on our blog.